Check out our premium V-Tag™ Active RFID asset location and tracking technology, from our partners at InfinID Technologies to keep track of assets in a dynamic environment. No expensive infrastructures are required to purchase and configure. These battery-operated compact RFID V-Tags "talk" to each other without the need of expensive antennas. Install the AssetWorx! Software, and when a tagged asset is moved, its new location shows up on a software map of your facility on your desktop, laptop, PC, and smartphone in real-time. Asset location and audit preparation become a piece of cake.
Avoid complex set-up—Save money on labor and materials when you dispense with antennas and cables. Avoid the software licensing fees that rack up to $100,000+ annually to manage and run other RFID solutions. V-Tag™ stands alone as the definitive affordable approach to asset tracking.
Now V-Tags come in an assortment of sizes to fit your application.
Try these on for size:
The Laptop or Travel Document V-Tag™
Weighing in at 2 ounces, this 3.85" x 2.9" x .32" active RFID tag has a thin profile to let you discreetly store your devices and documents without creating bulk.
The Slim V-Tag™
Weighing in at 1.25 ounces, this 4" x 1.33" x .35" has a rectangular profile.
The Short V-Tag™
This 2" x 1.25" x .50" is the smallest of the V-Tag collection, weighs in at 1.25 ounces.
The V-Tag™
About the size of a box of Tic Tacs (2.8" x 2.3" x .70"), this active RFID tag is the premier V-Tag™ boasting the longest battery life of the V-Tag family: up to 6 years!
V-Tag™ Asset monitoring goes beyond reporting movements: Configure your V-Tags to sound the alarm for temperature fluctuations, shock, and vibration. Use them for multiple industry applications, including managing critical inventory levels, monitoring work in process (WIP), retail inventory and asset management, tool tracking, tracking for audit preparation, and more.
Now V-Tags come in a new long-range outdoor GPS model.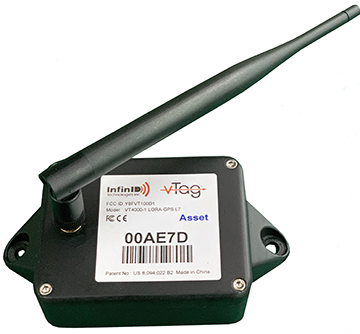 The long range V-Tag GPS Asset Tag communicates directly to a gateway reader without the need for fixed tags. With our GPS-Long Range V-Tag Outdoor Asset Tag, track assets in the great outdoors up to 9 square miles with a location accuracy of 10 feet. They withstand temperatures as low as -40˚F and as high as 167˚F. Housed within a rugged case constructed of impact-resistant glass-filled polymer, the tags are protected from dust and moisture.
Just like V-Tags designed for indoors use, these outdoor tags are cost-effective. Without monthly recurring per-asset fees, you'll save money. And the easy installation saves labor costs. Choose between the compact version with a range of up to 2000 feet and the whip antenna version with a range of up to 4000 feet.
The new GPS V-Tag™ works seamlessly with AssetWorx! RFID asset tracking software to display your company's valuable assets across car lots, construction sites, acreage, shipyards, and between buildings regardless of the harshest of environmental conditions.
Now V-Tags come in a model designed to track constantly moving personnel.
Meet the Beacon Tag, the new little circular RFID V-Tag, barely beyond the size of a quarter, designed to leave a small footprint with a long battery life.
Install a V-Tag gateway at each monitoring location, and then the AssetWorx! Software tracks the last observed position and time for each moving person or item, displaying their locations on the digital device of your choosing.
Whether indoors or outdoors, you'll keep a watchful eye on personnel moving through offices, classrooms, hazardous, restricted, and high security environments. And you'll have a birds-eye view of the movements and locations of construction materials in stockyards, WIP moving through various stages of manufacture, gas, oil, and mining operations, and of course, high-value property within a business, retail, or gallery space.
The applications for RFID tracking are truly endless.
Take the newest RFID solution for Hand Hygiene Monitoring—Imagine hand-sanitizing stations that notify you when they're almost empty. Here's how it works: Place a small gateway on the back of the hand-sanitizing station and connect it to the cloud. With a proximity sensor on the front of the station, the unit keeps track of how much sanitizer product is used per squirt and sends an alert when it reaches a critical low threshold to be refilled (say 25- or 50%).
How do you dream of utilizing active RFID tags?
Experiment and discover the usefulness of RFID on site with our all-in-one Starter Kits, available at low, introductory prices. Explore the applications for RFID asset tracking on our newly improved website. Then give us a call at (425) 348-2533 to help steer you in the best direction for your needs. Get in touch with our RFID integration experts to receive customized solutions to fulfill your needs and budget.