Announcing the Newest Breakthroughs in Active RFID and GPS RFID Tag Technologies
Up until now, locating assets housed between buildings, outdoors across several parking lots, and along acres of land was a challenge. Is there an efficient, inexpensive asset tracking system available that can withstand harsh outdoor environmental conditions and industrial sites? We have the answer!
Introducing the new GPS Long Range V-Tag™ Outdoor Asset Tracking RFID tag technology from InfinID Technologies. With the groundbreaking Long Range V-Tag GPS™ system, you can now track tools and equipment far beyond the walls of your facility. Imagine tracking assets up to 9 square miles with a 10-foot location accuracy!
Here at ID Integration, we strive to offer the most state-of-the-art asset tracking technology at a competitive cost. The GPS Long Range V-Tag active RFID system meets our standards – this system beats the price of the competition because you'll have no monthly per asset fees.
Here's further proof why this groundbreaking V-Tag GPS™ RFID tag technoloy is the premier choice for outdoor and long-range asset tracking:
Perfect for the great outdoors
The durable case enclosing the GPS tag is constructed of tough, glass-filled polymer that protects from dust and moisture. The tag can withstand temps as low as -40˚F and as high as 167˚F.
Provides Alerts and Alarms for Battery Level and Movement
Track suspicious movement patterns, keep aware of movements after business hours and monitor items that leave restricted areas.
Daily Inventory Reports
Receive reports of location and battery levels to confirm the presence of every tagged asset. Rest in the knowledge that your outdoor assets are all accounted for on a daily basis.
Real Time Notification of Asset Movement
The beauty of the new GPS V-Tags™ is that they work seamlessly with AssetWorx!™ RFID tracking software to display the location of each tagged asset onto a dynamic map of your business arena. When an asset is moved, its new location is instantly updated on a location map or company drawing.
The new, groundbreaking Long Range V-Tag GPS™ RFID tag technology, from InfinID, is perfectly suited to the outdoors. These rugged RFID tags are designed to withstand the rigors of wide temperature and humidity fluctuations found in outdoor environments.
Select From Two Different Versions
Select from two different versions or mix and match to fit all your assets, big and small. The compact GPS RFID tag contains an embedded antenna for ranges up to 2000 feet. For larger lot sizes, the whip antenna version transmits up to 4000 feet.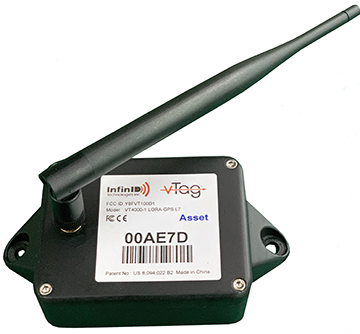 Outdoors (GPS Long Range V-Tag™ Outdoor Asset Tracking Tags):
• Car lot tracking—Find the locations of specific new and rental vehicles across several parking lots
• Agricultural applications—Farmers can now locate tools and vehicles across acreage
• Port and harbor implementation—Find locations of outgoing containers to be shipped and incoming containers awaiting inspection by Homeland Security
• Mining operations—Tracking tools and heavy equipment underground
• Construction sites—Tracking ongoing building in progress
Choose from an assortment of sizes to suit your indoor asset tracking applications!
Indoors (V-Tag Active RFID Tags):
Work order tracking—As a work order travels through receiving, to fabrication, to packaging, and then shipping, track the progress to ensure on-time completion
Tracking work in process (WIP) in industrial manufacturing—Equipment carts can now be tracked between buildings
Incoming and outgoing shipments—All business sectors benefit from monitoring pallets of completed products and monitoring the location of materials awaiting transport into or out of your facilities
Aerospace applications—Parts and tools are readily located across hangars
Hospital asset tracking—Never waste time looking for wheelchairs and medical equipment across different floors and between buildings
Hazardous chemical containment—Locate drums of hazardous materials and monitor their movements into and out of restricted areas
V-Tag active RFID provides a low-cost location tracking solution that's perfect for hospitals. Track computer carts, wheelchairs, and other high-value equipment quickly and effortlessly. V-Tag active RFID tags are now available for as low as $35.00 per tag!
The V-Tag GPS RFID solution is an excellent fit for tracking assets outdoors – like in this example rental car lot – where a specific vehicle needs to be quickly located.
Transform production efficiency with improved workflow, fewer errors, and less downtime. Save time and money searching for critical tools and equipment. Breeze through audits and keep tabs on inventory. Imagine the wide range of uses – indoors or outdoors – for a V-Tag RFID Location Tracking System (LTS).
Use the same brilliant RFID software, AssetWorx!, for keeping track, in real time, of both indoor and outdoor assets tagged with V-Tag Active RFID tags and the new GPS Long Range V-Tags. You'll never waste time hunting down valuable tools, equipment, and assets again. Our RFID team is on hand to answer your questions at (425) 438-2533 to help you choose the best tags for your application. Or complete our simple contact form and we'll be happy to reach out to you.